LARKHALL & BATHEASTON

---
The Batheaston and Lansdown routes both leave the City Centre Circle at Northgate Street. and proceed up Broad Street. The Larkhall and Batheaston route then turns right into Saracen Street and left, following Walcot Street to the London Road.
The return route follows the one-way system along Walcot Street back to Northgate Street.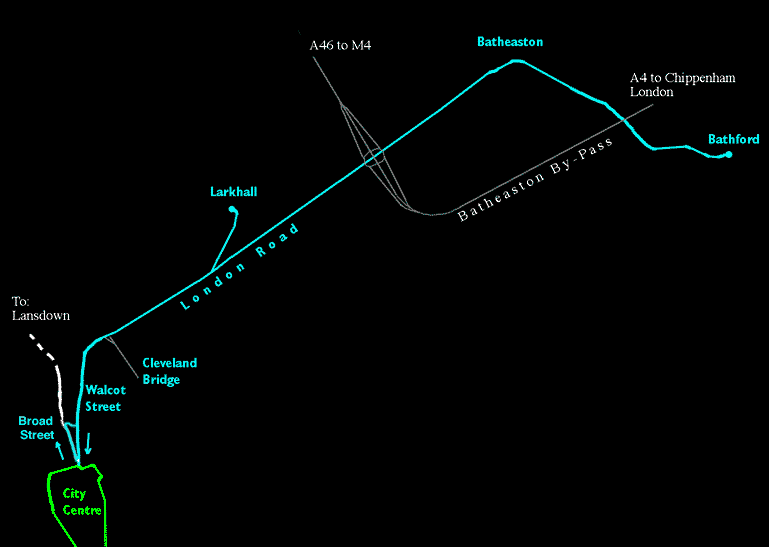 From the Cleveland Bridge junction (Click here for an explanation of how tram priority could be achieved) the route proceeds along the London Road, (A4), utilising a mixture of side and centre running.

The Larkhall route branches off along St Saviour's Road and terminates in Larkhall Square.
The Batheaston route continues along the A4, crossing the Batheaston Bypass and following the old road into the village. When the location of the eastern Park + Ride site for Bath has been decided, a branch can easily be extended to serve this. An alternative branch from the Bathampton route looks superficially more attractive but would generate a number of serious problems.
From Batheaston the tramway continues towards Bathford, crossing the roundabout at the northern end of the Batheaston Bypass and passing under the G.W. Railway bridge.
The previous tramway terminated in front of the George Inn but a continuation up Bathford Hill was planned. This continuation should be built and a suitable piece of flat ground may have to be constructed so as to allow the terminus to be placed near the housing developments which have spread up the hill.
---