THE OLD BATH TRAMS
1904 - 1939

---
The proposed new tram routes are constrained by the geography of Bath in exactly the same way as those of the old electric tram system were. This accounts for the similarity between the two systems. The old Bath Electric Tramways routes are shown superimposed in brown on top of the new routes for the sake of easy comparison.
The city centre ran as two one-way systems, joined by the High Street. There were specific occasions when trams could run in the opposite direction on these tracks, but special precautions were needed to prevent collision. The last tram at night was allowed to run the 'wrong way' because it was the only tram on the track.
The suburban routes reached the limit of the built-up are as it was in 1904, present-day routes have been extended to cover the more recent developments.
The villages of Bathford, Batheaston and Newton St Loe were also linked to Bath by the trams. Bathford and Batheaston have become larger dormitory areas and would still benefit from a tramway, but Newton St Loe has not developed in this way and with present levels of non-car-owning residents, it is difficult to justify a long extension to serve it.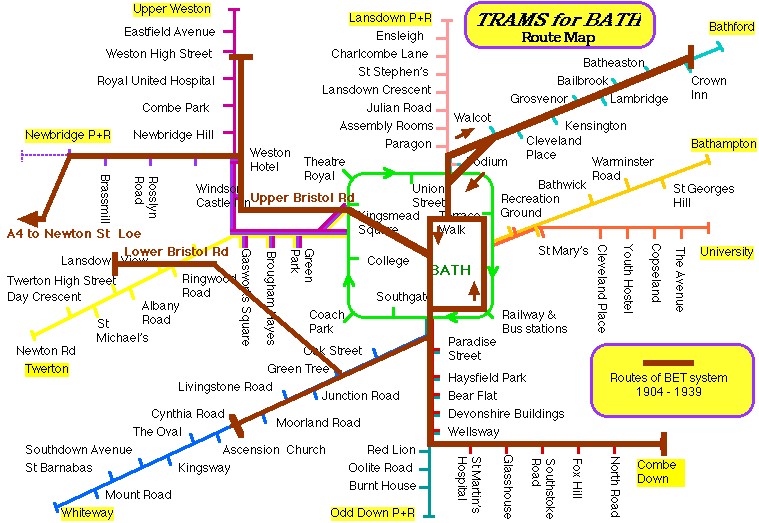 Note: The tram stop names and positions are representative of the current proposals, they do not necessarily correspond with those of the older system.
---