---
FARES
The cost of a tramway is mainly in the infrastructure, the actual running costs are relatively low. This benefits the operator who runs a frequent, cheap service and encourages as many passengers as possible with low fares. The actual fare structure in Bath would depend on the operator and cannot be stated with certainty although some idea of the possible fares can be suggested.
A good guide to typical tramway fares can be gained from those of other cities.
The Fare Structure is a very important factor in determining how readily trams are perceived as an alternative to the car. It must be seen as equitable but without becoming over-complicated. The Zone structure could be very suitable for Bath, modelled on the well-tested systems found in Germany.
A Zone System for Bath
The city is divided into zones and the fare costs are expressed in units. To make one journey within one zone costs one unit, to travel from one zone to the next zone costs two units. In the City Centre, travel is free and this does not count as a zone.
FARE ZONES IN BATH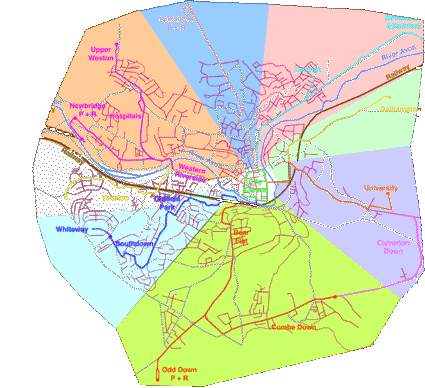 Some typical journeys:
| | | |
| --- | --- | --- |
| Journey | Zones | Cost |
| Batheaston to Bus Station | One zone + City Centre | One unit |
| Batheaston to Combe Down | Two zones + City Centre | Two units |
| Newbridge to RUH | One zone | One unit |
| Upper Weston to Twerton | Two zones | Two units |
| Mineral Water Hospital to Bus Station | City Centre | Free |
| Oldfield Park to University | Two zones + City Centre | Two units |
| Odd Down P+R to Kingsmead Square | One zone + City Centre | One unit |