BATH ROYAL LITERARY AND SCIENTIFIC INSTITUTION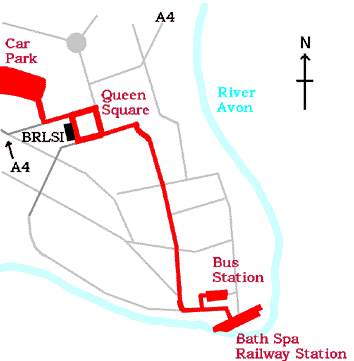 The Bath Royal Literary and Scientific Institution building is on the west side of Queen Square, Bath.



RAIL


From Bath Spa Station walk west 100m along Dorchester Street. Turn north up Southgate, Union Street and Burton Street (500m).
Turn west along Quiet Street and Wood Street which brings you into the south east corner of Queen Square. BRLSI is on the western side.



BUS


From the Bus Station, walk south into Dorchester Street, then follow the directions above.



CAR


The nearest car park is Charlotte Street. Leave by the south east exit, turn left along Charlotte Street which brings you into Queen Square at the north west corner. The BRLSI is on the western side

The BRLSI is a fascinating institution with a long history
More about the BRLSI?
---